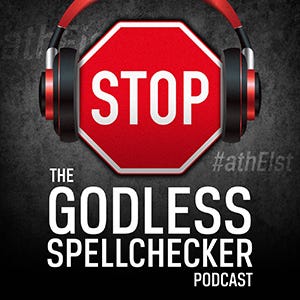 Apr 17 • 56M
Taking The Myth - April 2023 Edition
The Godless Spellchecker Podcast is an award winning weekly sceptical/atheistic show in a conversational, interview format hosted by Stephen Knight. We hear from leading public figures as well as people without a public profile that have equally valuable experiences and ideas to share. The goal is to amplify good ideas and scrutinise bad ones. The motto of the show is: "I think we've all learned something here today".
This week on Taking The Myth, Stephen Knight (@GSpellchecker) and Iram Ramzan of sedaa.org (@Iram_Ramzan) discuss all the big topics.
0:00 Intro
0:44 The Dalai Lama asking a child to "suck my tongue".
6:17 Stephen Knight reporting from Kellie-Jay Keen event in London
10:16 The Nashville school shooting in the USA.
18:11 Police seize 'Golliwog' dolls from a UK pub after complaints.
30:53 Kier Starmer Vs Rishi Sunak on women with penises.
35:21 The backlash to Dylan Mulvaney's Nike and Bud light endorsements.
45:17 Elon Musk V Substack
51:33 Megan Markle not attending the Coronation of King Charles


Stephen Knight's Substack: www.sknight.substack.com

Sedaa: www.sedaa.org
Support the podcast at www.patreon.com/gspellchecker
Also available on iTunes, Stitcher, YouTube & Spotify.